Basic Care for Nigerian Dwarf Goats
Fencing for your goat
It is important to remember that fencing serves two purposes, to keep goats in and predators out! While there are many options available we chose to use 5ft non-climb woven wire fence (4ft is generally sufficient for Nigerian Dwarf goats but we also had to consider our horses and cow). This fencing is galvanized which helps with longevity, the spaces are 2'' by 4'' which helps with predators and because it is woven (like a chain-link fence), not welded (like common livestock fence) it is more durable and tends to "give" a little if pressure is applied, instead of snapping. We used 8ft long 4'' by 4'' posts spaced every 8ft to support the wire and added concrete to the holes for the corner posts. Finally, we finished it off with 16ft 2'' by 6'' boards for a top rail, this is not necessary for a woven wire fence but we felt it helped with visibility, gave us another place to staple the wire to which tightened the fence and added curb appeal :-) This is a link to the non-climb fence, we got ours at Tractor Supply. We used 60'' tall wire which you can special order (no extra charge) to be shipped to the store, it comes in 100' and 200' rolls but the 100' was difficult enough to manage so for us the 200' would have been near impossible.
http://www.tractorsupply.com/en/store/non-climb-horse-fence-48-in-x-100-ft
We also found a fence stretcher like this
http://www.homedepot.com/p/YARDGARD-36-in-Galvanized-Steel-Hook-Stretcher-Bar-with-3-Hooks-328753DPT/202025423#.UXVY1TvD-t8
to be extremely helpful. To put up the wire we threaded a piece of rebar through the wire, attached the fence stretcher to the rebar, used a come-along (attached to the truck or a tree) to pull the wire until it was very, very tight and then stapled away. Side note: we decided to make rounded corners (pic on the left below) this way a more docile animal can't become trapped in a corner by one of the more alpha/big-meanie herd members.
Sheltering your goat
Our goats hate to get wet so having proper shelter is very important! For the girls we purchased a prefabricated barn with two 12' by 12' stalls. One stall is generally closed and reserved for breeding "dates" and kidding, the other is always open so the girls can come and go as they please. The general consensus is goats need about 10 square feet of space in a barn or shelter to be comfortable. Over-crowding can lead to increased parasite loads and respiratory problems from ventilation. Our barn has four screened windows which I keep open 365 days a year for ventilation. Nigerian Dwarf Goats are very hardy and I noticed mine only sleep inside when it rains or if it gets below 30 degrees or so. They sleep on the dirt floor which I muck out about once a week. A stall or run-in is also a great place to keep supplements dry and easily accessible. Our buck shares a 12' by 12' run-in with our cow though they sleep outside most nights as well.
Feeding your Goat- Does
A quick google search will give you a whirlwind of advice on proper feeding and lots of different opinions so here I will offer only what we do and have found to work. Our girls get free choice hay, water and loose minerals
24/7. Yup its that simple. I may add a small amount of a generic 12% sweet feed late in pregnancy or during lactation if they seem to be loosing weight but generally hay alone is enough to maintain them in good body condition. For grain I use Producer's Pride 12% sweet feed or Dumor Equistages as either has a very similar nutrition and mineral content as any of the commercial goat feeds but costs about $5 less per bag. For supplements, they have access to loose minerals. Goats cannot get adequate nutrition from a block mineral so it is important to splurge for the loose stuff. I use Sprout Minerals available here: https://www.fleetfarm.com/detail/sprout-goat_mineral/0000000028574?utm_source=googleps&utm_medium=shopping%2Bsearch&utm_campaign=google%2Bproduct%20search&gslfah&gclid=Cj0KEQjwmcTJBRCYirao6oWPyMsBEiQA9hQPbpSLFjctasWUjI7Fu33TbJEJmr48uE4opoyQT1GAghIaAivm8P8HAQ Aside from the free choice buffet, they also get a selenium gel bolus (orally) a month before kidding and a 2g oral cooper bolus four to six times a year. I have found the copper supplement noticeably improves the condition of their coat and feet and also helps keep down parasite loads. The general rule of thumb is 1g per 22lbs but it is possible to overdose and make a goat toxic so I tend towards the conservative side. I make my own boluses by ordering the calf-sized Copasure capsules which are 12.5g each. I then buy size 0 empty gel caps (I got mine from Vitamin Shoppe) and divide 1 calf sized pill into 6 gel caps so they are roughly 2g each. I get the Copasure here
http://www.valleyvet.com/ct_detail.html?pgguid=2e87c3c9-7b6a-11d5-a192-00b0d0204ae5&gas=copasure
though if you want to avoid the DIY stuff, they now offer a goat-dose available here
http://www.valleyvet.com/ct_detail.html?pgguid=177dd401-ee37-4eec-899b-aeb38b98e6d3&gas=copasure
I use this for a selenium bolus
http://www.valleyvet.com/ct_detail.html?pgguid=c4293667-d31d-4e8a-ab33-c27b0cd27fb6&gas=goat
Feeding your Goat- The boys
The main difference for feeding bucks and wethers versus does is they are more prone to renal calculi (kidney stones), especially wethers due to an underdevelopment of the urethra following castration at a young age. Feeding grain increases the risk due to increased minerals. My bucks get minimal mineral supplementation from the mineral block the cow uses and they do not get any grain. I do not recommend routinely feeding wethers any minerals or grain due to the high risk of kidney stones. Basically its hay and whatever trace minerals they can lick off the cow block. You should avoid giving wethers alfalfa as it has a higher calcium content which can again lead to stones
Worming and vaccinating your goat
For vaccinations, our adult goats receive CD&T and rabies boosters yearly. Our pregnant does receive their CD&T 2-3 weeks before kidding to pass immunity to their kids. Kids then get CD&T boosters at 6 weeks and around the 9 week mark. The rabies vaccine can be given at 6 months by a licensed vet and then yearly. For dewormer dosages I use this chart which was published by the University of Georgia in 2014. It has slightly higher dosages for some dewormers than the chart that I used to use which was from Purdue University 2006. Does are wormed the day they kid and babies are wormed the day they leave our farm. This is because stress from these situations can drastically increase worm loads. Otherwise we monitor their health and deworm as necessary, generally once every 1-2months from Spring to Fall and once every 3 months in Winter.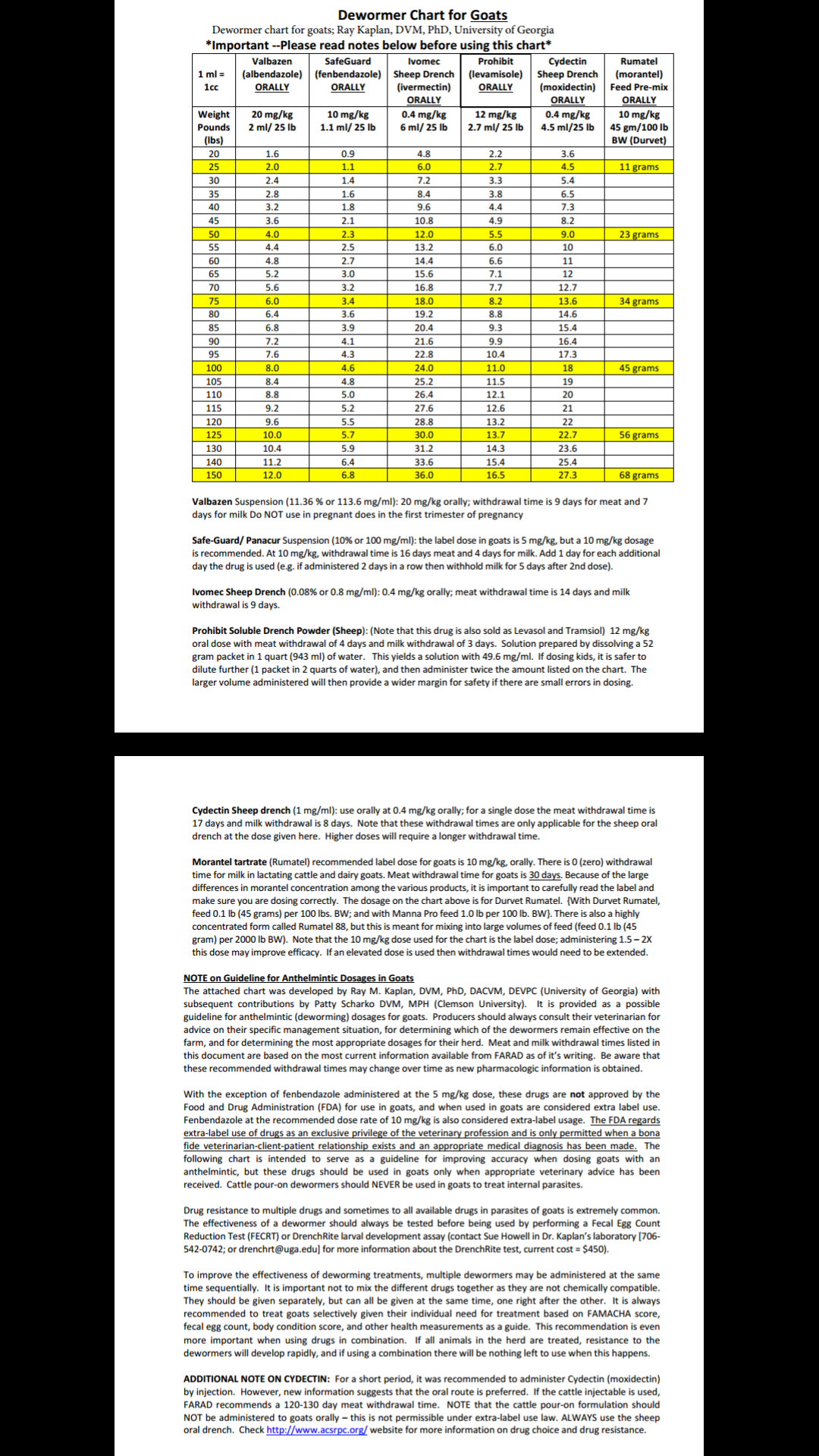 Raisin' babies
We believe Dam raised babies truly make the friendliest goats. This is because bottle fed babies are more likely to approach you as part of their quest for food whereas Dam raised babies will approach you because they enjoy human company and are looking for attention. We handle our babies daily from the day they are born and take pride in how friendly and approachable they turn out to be. Babies are kept with their mother in a kidding stall for about the first two weeks of life and then after several supervised visits with the rest of the herd they are allowed out during the day. We continue putting mom and babies in their stall at night due to the fear of predators until they are about 3 weeks old. We do not milk our does until their babies are at least 3 weeks old so that all the milk does directly towards growing those babies! Horned babies are disbudded as soon as possible, males at about 3 days of age, females at about 1 week, we love our Rhinehart x30 dehorner available here
http://hoeggerfarmyard.com/xcart/Rhinehart-X30-Dehorner.html?mode=add&page=&is_featured_product
= After reading many reviews we went with the 1/2'' tip and find it is the perfect size to quickly get the job done (it is also sold with a 1/4'' tip, advertised for smaller goats but we read too many reviews from people who had to make multiple burns to get good results with this tip). Does and their babies get a small amount of grain twice a day, hay, minerals and lots of grass.