Pocket Sized IT Caden
4-15-12 Twin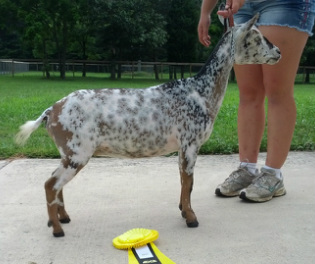 Sire: Dreahook W Interlude
SS: 4 Fun Willy Wonka
SD: MCH Dreahook June Bug
SDS: TX Twincreeks FAX Valinor*S
SDD: MCH Dreahook Rainbow Rhapsody

Dam: MCH Pocket Sized TB X-cess Grace
DS: 4 Fun Timbuck Two
DSS: 4 Fun Seabiscuit *S E
DSD: Valley View Z Madison's Mirssa
DD: MCH Pocket Sized M Saturn 5*D E
DDS: MCH Pocket Sized LD Monaray
DDD: Gay-Mor's RA Moon Nymph 4*D



Show history:
1x Jr. Doe Reserve Champion
2x Jr. Doe Grand Champion

Freshenings:
2014- triplets, 2 does, 1 buck
2016- twins, 1 doe and 1 buck

Unfortunately Caden suffered a severe case of gangrenous mastitis several hours after her first freshening. She underwent emergency surgery and had a unilateral mastectomy. Luckily, our girl pulled through and is doing well. She successfully nursed twins with one udder!
---
Rolling Oak Farm Blossom
6-21-11 Twin, Polled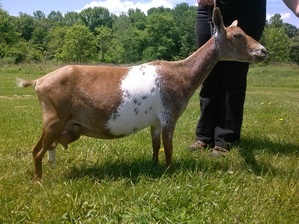 Sire: MCH Kids Corral PT Luthor
SS: Kids Corral Pat's Tenor
SSS: Flat Rocks Crescendo
SSD: MCH Doe-Sy-Doe's Patches 8*D
SD: Doe-Sy-Doe's Ginger
SDS: ARMCH Rosasharn's Tiger L +*S 'E'
SDD: Doe-Sy-Doe's L'il Angel 7*D

Dam: Doubletree Top Zat
DS: Doubletree Trojan
DSS: 4 Fun Frankie Sinnot *S
DSD: Doubletree Litl Bito Jessica
DD: Doubletree Blu Tahoe
DDS: Doubletree Blue Booger
DDD: Hayseed Farm's Bessie Mae

Freshenings:
2013- quads
2014- triplets
2015- quads
2016- twins
2017- Quints!!
---
Rolling Oak Farm Bindi
6-21-11 Twin, Polled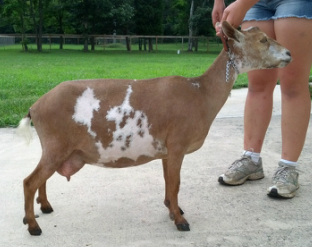 Sire: MCH Kids Corral PT Luthor
SS: Kids Corral Pat's Tenor
SSS: Flat Rocks Crescendo
SSD: MCH Doe-Sy-Doe's Patches 8*D
SD: Doe-Sy-Doe's Ginger
SDS: ARMCH Rosasharn's Tiger L +*S 'E'
SDD: Doe-Sy-Doe's L'il Angel 7*D

Dam: Doubletree Top Zat
DS: Doubletree Trojan
DSS: 4 Fun Frankie Sinnot *S
DSD: Doubletree Litl Bito Jessica
DD: Doubletree Blu Tahoe
DDS: Doubletree Blue Booger
DDD: Hayseed Farm's Bessie Mae

*in this picture her udder is only about 3 hours full (first freshening), I forgot to do
pictures before I milked her out and she was also being a little camera shy!

Freshenings:
2013- quads
2014- single
2015- single
2017- quads

Show history
2nd place 2-3yr old milkers 7/2013
---
Noah's Acre's Luna
4/12/08, Polled
Sire: Pocket Sized MN Vice VG
SS: MCH Pocket Sized LD Monaray
SD: MCH Crystal Pond NN Rupee *D VG

Dam: Noah's Acre's Linux
DS: MCH Kids Corral PT Luthor
DSS: Kids Corral Pat's Tenor
DSD: Doe-Sy-Doe's Ginger
DD: MCH Noah's Acre's Lana VG







Freshenings (I am unsure of her kiddings prior to coming to our farm but for us she definitely does not disappoint!)
2015- quads
2017- quads
---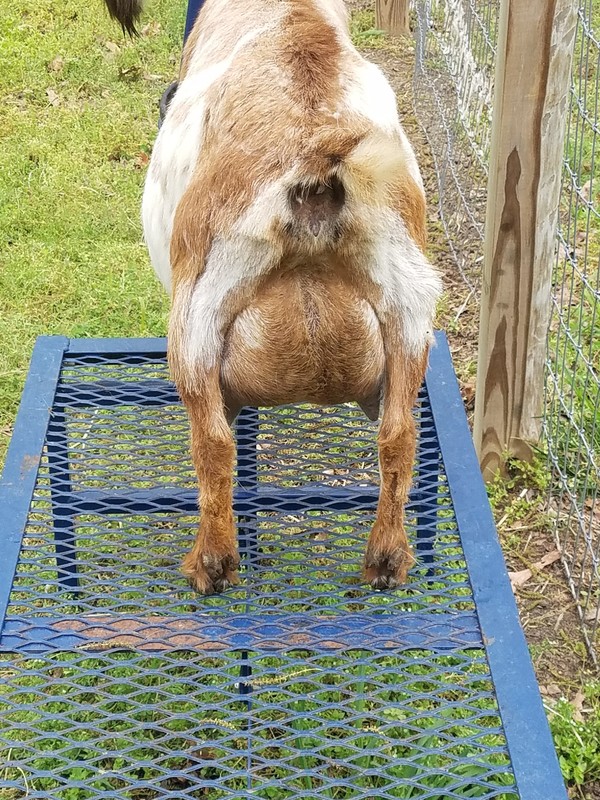 Doubletree Buttermilk-Blu
5/7/09 Twin, Blue Eyes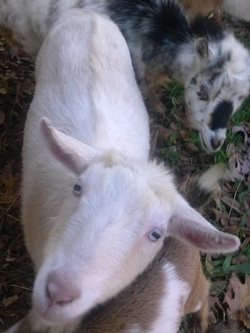 Sire: Doubletree Trojan
SS: 4 Fun Frankie Sinnot *S
SD: Doubletree C Litl Bito Jessica

Dam: Doubletree Blu Willow
DS: Caesar's Villa FD Sheriff *S
DD: Gay-Mor LT Electric Blue Neon


Freshenings:
(unsure of her exact numbers prior to coming to our farm)
2017- single doe
---